The Police would like to alert members of the public to a job scam variant, where scammers would entice victims by giving them commission for the completion of simple surveys before offering fake jobs thereafter. Since January 2023, at least 1,013 victims have fallen prey, with losses amounting to at least $17.6 million.
In this variant, the victims would receive unsolicited WhatsApp or Telegram messages asking them to participate in a survey or market research and to answer a few questions. The questions were usually related to food delivery platforms (Deliveroo and Food Panda), tourism, or events/festivals etc. Upon completion of the surveys, the victims would receive a small commission.
After victims were convinced that they could earn commission, scammers would provide another WhatsApp or Telegram contact to the victims, suggesting that the victims could reach out to the contact for more rewarding jobs. The scammers would ask the victims to perform tasks such as "boosting" the value of cryptocurrencies or "rating" mobile applications to improve their rankings on app stores. To perform these tasks, victims had to create accounts on scam websites and transfer monies to bank accounts provided by the scammers. In some cases, victims would be instructed by scammers to put in even more of their own money for a variety of reasons. Victims would realise that they had been scammed when they failed to withdraw their commission or when the scammers could no longer be contacted.
The Police would like to advise members of the public to adopt the following precautionary measures:
ADD – ScamShield App and set security features (e.g., enable two-factor (2FA) or multifactor authentication for banks, social media, Singpass accounts; set transaction limits on internet banking transactions, including PayNow). Do not send money to anyone whom you do not know or have not met in person before.
CHECK – for scam signs and with official sources (e.g., visit www.scamalert.sg  or call the anti-scam helpline on 1800-722-6688). Do not accept dubious job offers that offer lucrative returns for minimal effort.
TELL – authorities, family, and friends about scams. Report the scammers to WhatsApp and Telegram.
If you have any information relating to such crimes or if you are in doubt, please call the Police Hotline at 1800-255-0000, or submit it online at www.police.gov.sg/iwitness. All information will be kept strictly confidential. If you require urgent Police assistance, please dial '999'.
For more information on scams, members of the public can visit www.scamalert.sg or call the Anti-Scam Helpline at 1800-722-6688. Fighting scams is a community effort. Together, we can ACT Against Scams to safeguard our community!
Example of Fake Online Job Scam
Stage 1: Scammer approach victim through WhatsApp ▼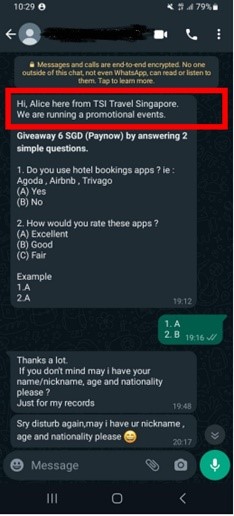 Stage 2: First commission received by victim ▼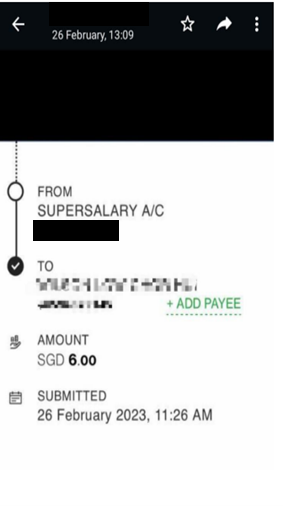 Stage 3: Scammer provided another Telegram contact for victim to reach out to for more rewarding tasks ▼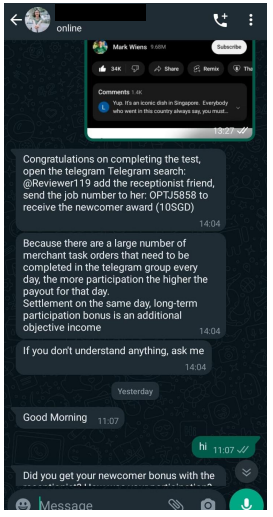 Stage 4: Victim joined group chat where rewards for completing tasks are listed out ▼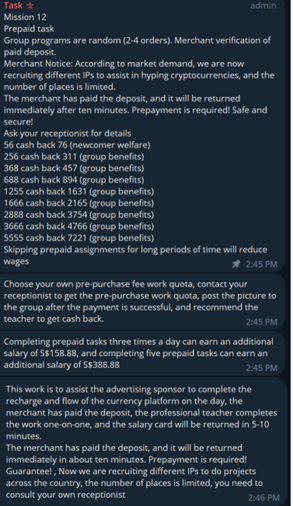 Stage 5: Victim told to create accounts on scam websites and to transfer money to bank account provided by the scammer ▼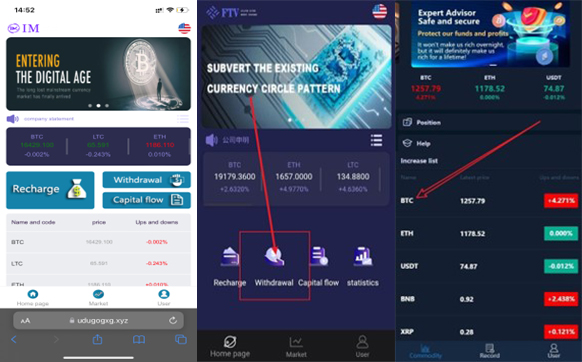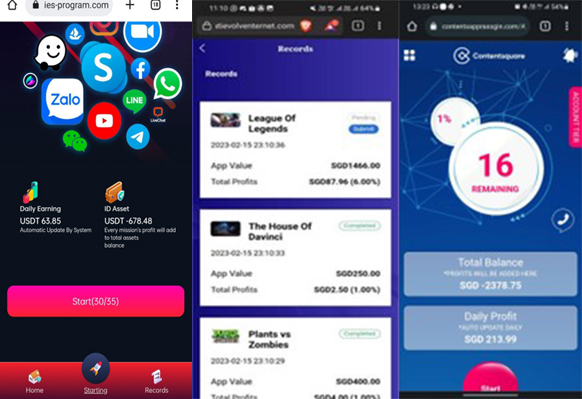 Stage 6: Example of a task to "boost" crypto on scammer's website ▼

PUBLIC AFFAIRS DEPARTMENT
SINGAPORE POLICE FORCE
29 March 2023 @ 12:35 PM