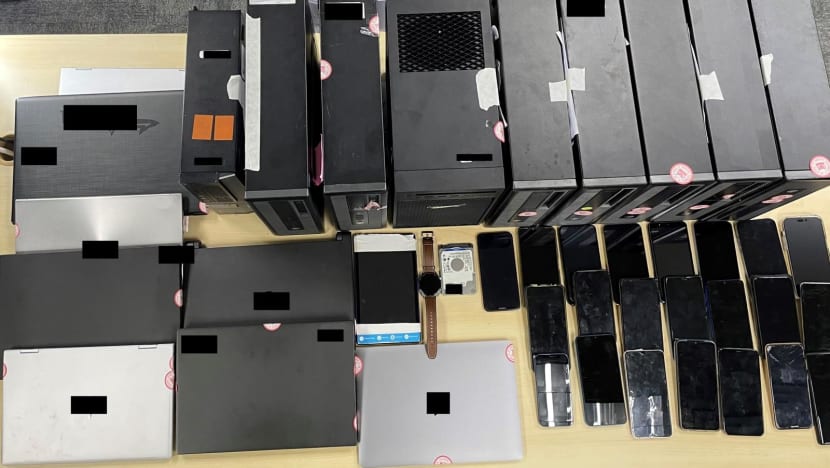 The Ministry of Manpower (MOM) has busted a syndicate involved in bringing in migrant workers using work passes that were obtained illegally. 
A total of 27 people allegedly linked to the syndicate were arrested during a two-day islandwide raid that ended on Wednesday (May 17). They are accused of bringing in 290 migrant workers through fraudulent means. 
The syndicate works by making CPF contributions to Singaporeans to fraudulently inflate shell companies' quota to hire foreigners, MOM said in a media release on Saturday. 
"These Singaporeans, or 'phantom workers', are not employed by these companies," the ministry said. 
"Based on the inflated quota, the companies would apply for work passes for the foreigners through false declarations. These foreigners would then enter and remain in Singapore via these illegally obtained work passes."
The number of work permit and S Pass holders a company can hire is limited by a quota which varies across sectors. 
MOM's raid this week covered 19 locations, including food stalls, homes and an office belonging to the suspects. 
Payment records and 80 digital devices such as laptops and mobile phones were seized during the enforcement operation. 
Investigations against the suspects are ongoing, said MOM. 
Making false declarations in relation to applications for work passes is a serious offence, said the ministry. 
If convicted, an offender can be fined up to S$20,000 (US$14,900), jailed for up to two years, or both.
Errant employers will also have their work pass privileges suspended. The work pass applicant may also be prosecuted and permanently barred from working in Singapore.
Employers who hire foreign employees without valid work passes face a fine of up to S$30,000, a jail term of up to 12 months, or both, per charge. They will also be barred from employing foreigners.
Foreigners who take up employment without a valid work pass face a maximum fine of S$20,000, a jail term of up to two years, or both. Upon conviction, they will be permanently barred from working in Singapore.
Work Pass | Work Permit | S Pass | Employment Pass | Dependant Pass | Long Term Visit Pass | Letter Of Consent